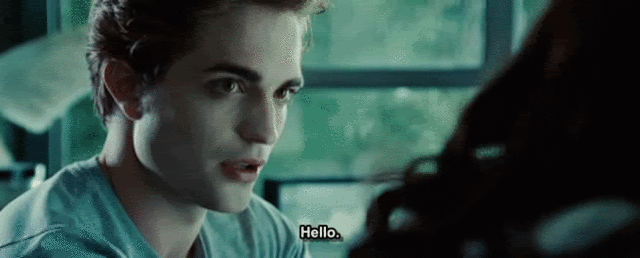 He is the reason why I haven't updated in many days. I have watched the movie, Twilight 3 times. I didn't thought I would like the movie since some friends (mostly guys) didn't like it. It's a romantic-teeny-bopper flick and I like those kind of films – makes me forget about my worries which also made me forget about my blog. lol
This snapshot was when Edward was looking at Bella (as if he wanted to eat her). Their teacher was explaining something which showed the subtitle "You won't believe this." This looks funny for me because the wings of the bird statue behind Edward suited him. I don't know if the director did it on purpose.
I love this part! It's like the in the movie Titanic when Jack said to Rose, " I'm too involved now. You jump, I jump, remember?"
This scene looks similar when Boyfriend was asking my parents the first time if he can take me out.
Was Edward giving Emmet a dirty finger?
Edward Cullen looked like Edward Scissorhands (Johnny Depp) in here.
Then again, this looked like when Boyfriend and my father had heart to heart talk in the dining table.
Bite Me!
My favorite lines:
Everything about me invites you in.. my voice, my face even my smell.
so the lion fell in love with the lamb.
what a stupid lamb
what a sick masochistic lion.
I haven't read the book yet. I think this is a 3-part book. Can't wait for the sequel.. grrrr….
Update: No, it's a 4-part book: Twilight is followed by New Moon, Eclipse and Breaking Dawn by Stephenie Meyer.